Thrive your IT career together with Team4Code
You are engineer, we are Team4Code

You are passionate about technology, curious and driven to solve problems.
You are mature and balanced, communicative. But a good challenge awakens the beast in you.
You go to great lengths to achieve your goals and get it done.
People respect you, they even admire you. They stand in awe!
Pushing boundaries
You like to work on the best projects. With the coolest technologies. In capable teams with the best peer professionals, with whom you can share your deepest despair and greatest successes. Where intensive collaboration and learning takes place without unnecessary meetings or useless chatter. You want to work in a place where people who do the work get the credit. Where you can continuously improve your skills and get the most out of your career. Doing so you want to push boundaries, transcend yourself and earn good money.
Facilitating teams

At Team4Code we understand what drives great engineers. We offer opportunities to work within leading product companies. We are convinced that attitude, involvement and communication, in addition to skills, are the most important conditions for success. That is why the product team is central to our transparent business model. We offer support at all stages if you want to develop your career. We do this by bringing you into contact with decision-makers in our network. We stand by you all the way. We facilitate both business, product owners, and engineers. It is our mission to help IT teams to be successful.

Meet the best teams
International experience

Team4Code doesn't only work with customers from all over Europe and America, but also hires specialists from different countries. We offer you the best opportunities.

Working in a involved team

We value not only professional qualities in our candidates, but also pay close attention to attitude, involvement and communication. Together you make the difference.

Your work gets rewarded

It is important that the work of each specialist is paid accordingly. Team4Code can make sure you get the credits and the rewards for your work.

Professional and career growth opportunities

With Team4Code you can not only improve your skills and get the most out of your career, but also push the boundaries and surpass yourself.

With you all the way

Our work doesn't stop when you found a team where you feel at home. We stay with you all the way and facilitate your growth and development.

Long term employment

We help to find the best companies with interesting projects. And when work stops in the current company, we don't leave our specialists, we help to find a new exciting team.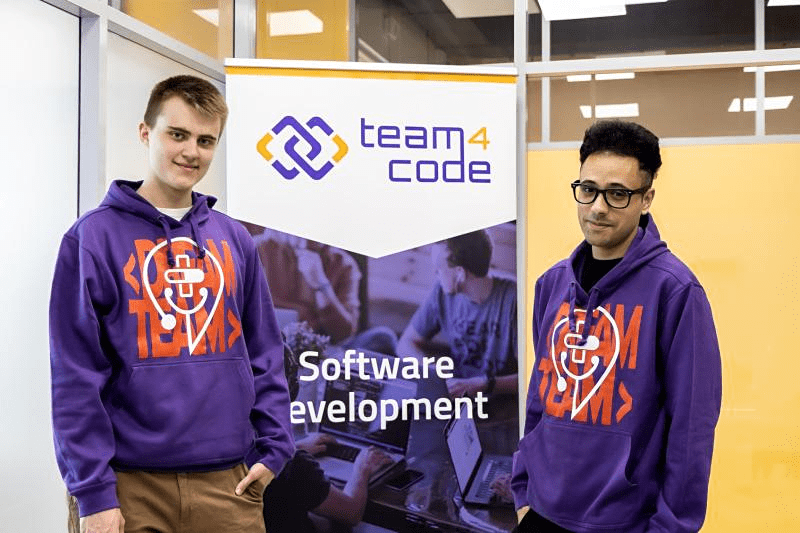 Team up
One of our Dutch customers was looking for a team to develop a medical application. We recruited a back-end .NET developer and a Angular Front-end specialist to work from our office in Kyiv. The project manager was so happy with the guys that he made 'Dream Team' sweaters.
Are you a great engineer and you see a vacancy that you like? Maybe you are not yet experienced but are made to become a great engineer? Feel free to contact us!
We will gladly answer your questions
There are two ways to apply. If you found an interesting job you can directly apply. You can also send an open application. You will find a form in which you can indicate the specialization you are interested in and the vacancy. Simply click 'open application' or 'connect' elsewhere on this page.

For all the time of our work, we have managed to expand the circle of our customers and engineers far beyond the borders of the Netherlands and Ukraine. Now we mainly work with specialists from 4 countries: the Netherlands, Ukraine, Poland and Serbia. And most of our clients are from Western Europe.

You are a professional, so therefore we turned the procedure upside down. First we get to know each other and see if there is a match based on the job description, your cv and your ambition. Than an interview with the CEO is planned. Expectations, possibilities, attitude are the topics of the first interview by our CEO. If there is a go we will do some reference checks and you will be invited for

At each stage of the interview, we will give you feedback and keep you informed of what is happening. We value each candidate, so we take the issue of communication seriously. Be sure you don't miss anything.

Team4Code was founded by Arnoud Wijnands. He was not happy about hiring engineers through outsourcing companies or platforms. He decided to setup team himself. Later companies asked Arnoud if he could help them. That is when Team4Code was founded. The concept is fully transparant. We facilitate both engineers and companies alike with services such as payrolling, finances, HR, workplace and IT. Our purpose is to build great teams. You work for a product company and get support from Team4Code when needed.